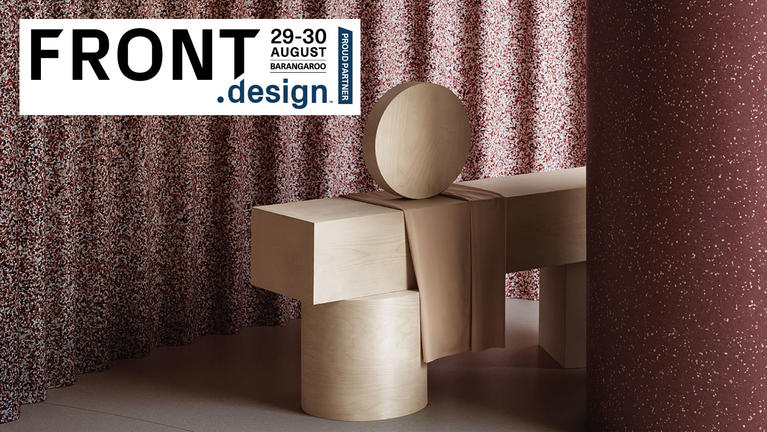 iQ Surface is coming to FRONT
Durable, adaptable and inspirational, Tarkett Homogeneous Vinyl flooring is a true design material. Place it in a designer's hands and something magic happens; a realisation of unlimited creative potential. This is the tale of iQ Surface, a Tarkett collection that champions the creator and 'Formations', a dynamic Milan Design Week installation that shifts perceptions.
iQ Surface will be launched at this years FRONT, held at Barangaroo on 29th - 30th August.
Milan Design 2019
This year, at Milan Design Week 2019 Tarkett iQ Surface was unveiled, a design collaboration with Swedish design studio Note. The collection, comprised of five themes, looks at Tarkett vinyl flooring from a fresh design perspective. Colour curation is the driver, using Note's signature finesse with tone and hue to give each theme a distinctive colour family and surface technique. Combined with the ways in which the welding rods (which join adjacent pieces of vinyl together) have become more of an artistic medium, this new collection enables a new field of use for homogeneous vinyl surfaces in design and architecture.
Origin of the Collection
iQ Surface is the result of a collaborative journey between Tarkett and Stockholm-based design studio Note that started out with the creation of a booth for Stockholm Furniture Fair 2018 revealing the scope of Tarkett's vinyl flooring for a new generation of design applications. A range with equal weighting to function, form and expression of colour.
Tarkett iQ Surface is the creative destination of a 50-year journey by a material loved and used by millions. An honest material that openly combines technology and design for all to see.
Flooring Trends Forecast 19/20 with Kim Chadwick
Join us at FRONT 2019 for an exclusive presentation on the latest in local flooring trends presented by expert trend forecaster, Kim Chadwick of Australian Trend Forecast.
Kim has been working with colour and products for over 25 years, works with major clients to forecast and direct their upcoming product ranges and colour palettes. She is highly specialised in interior and exterior building products and materials for the built environment.
Thursday 29th August, 5pm
International Towers,
Barangaroo