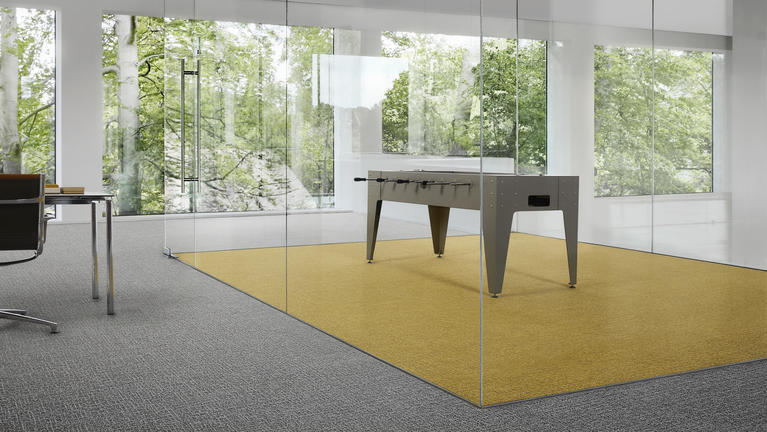 Health and wellbeing are an integral part of designing people friendly spaces. With new standards like WELL focusing on a holistic approach to wellbeing, employers have a responsibility to create healthy, creative working environments. What's more, the human experience must be the driving force behind every element of space, starting with the most basic – the air we breathe. 

We spend approximately 90% of our time indoors and as such improving indoor air quality can have an immediate, positive and tangible impact on workspace health and wellbeing. With our Asthma rates one of the highest in the world, products that help relieve health impacts for Asthma & Allergy sufferers have never been more relevant. In fact, studies show it can raise employee productivity by up to 5% generating estimated savings between $20 and $200 billion.

DESSO AirMaster is designed to capture more tiny dust particles than any other carpet solution on the market helping create a healthier indoor environment. Independent testing has found AirMaster to be 8x better than other smooth flooring solutions and 4x better than any other carpet solutions in reducing the amount of harmful fine dust particles in the air.
AirMaster
DESSO AirMaster® marries great innovation and performance with strong design to boost health and wellbeing in offices, schools, healthcare environments and other public buildings. 
Featuring a textured linear pattern, the original AirMaster collection comes in a balanced colour palette to create a sophisticated floor design.
Desert AirMaster
Inspired by nature, Desert AirMaster® has a diffused pattern to give a marbled effect to the flooring. Thanks to the random pattern and the use of two colours, every carpet tile is different – providing endless design opportunities.
AirMaster Sphere
AirMaster® Sphere has a handmade rustic feel inspired by natural materials and elements to add warmth and texture to a modern office environment. Its design-led appearance is matched by its technologically advanced pedigree offering the patented AirMaster® technology.
AirMaster Earth & Tones
Featuring delicate and tactile colour palette, AirMaster Earth & Tones carpet tiles can be combined to allow designers to create zoning and routing in open plan spaces and create a design statement.
AirMaster Earth is available in seven distinctive colour options, including five neutral shades and two vibrant accent colours. Each tile features a statement black yarn threaded into the pattern that adds drama and tactility to your designs.
AirMaster Tones is available in 12 colours, including six neutrals, ranging from dark to light, and six soft pastel accent colours, including soft pink/red, blue and green shades resulting in an on-trend modern and delicate colour palette.