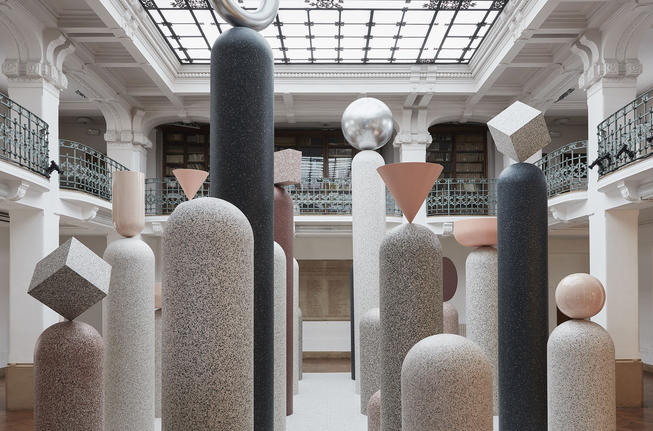 iQ Surface vinyl flooring collection now available!
iQ Surface, our new terrazzo-tile effect vinyl flooring collection was released at our Milan Design Week 2019 installation 'Formations'. The collection was designed in collaboration with Swedish Note design studio. The vinyl collection was imagined to unlock creativity in design and architecture and truly magnify the potential of one of our most iconic product families, the iQ homogeneous vinyl flooring range.
"Intelligent quality" vinyl flooring with high potential
The Formations exhibition intended to spotlight the potential of a traditionally hardwearing vinyl surface usually reserved for demanding areas. Stockholm-based Note design studio worked with our team to develop iQ Surface, which "goes beyond the basic by nodding to multicoloured terrazzo - a resurgent architectural favourite, currently lining everything from floors to kitchen surfaces and baths." (Matt Ponsford, Icon)
The story of iQ Surface really starts with the creation of our first iQ vinyl floors. iQ stands for "intelligent quality", which is what brings together all of the floors of this hard-wearing, functional and high quality flooring range. iQ Surface writes a new chapter in the iQ story: the iQ new-comer has all the qualities of the other iQ floors, plus a set of multi-coloured designs and hues that call for combinations on any surface, from floors and walls to objects and furniture.
Welcome to the age of versatility
When it comes to design and architecture a good material is a versatile material. In the case of vinyl, a designer or architect holds a versatile, hard-wearing surface. Our iQ vinyl floors are often used in Healthcare and Aged Care environments for their exceptional durability. With iQ Surface, durability is no longer reserved to Hospitals or Care Homes. This versatile collection with its beautiful multi-coloured designs will fit naturally in environments where design is key, such as Hotels, Restaurants or Work Spaces, and contribute to making Hospital environments more patient-friendly.
It's also a flexible, creative material equally at home wrapping around objects, climbing across walls, forming patterns in combinations. The iQ Surface collection wants to be used and experimented with; its new colourways invite combinations of tonal hue or poppy accents. A veritable designer's playground.
iQ Surface, innovative vinyl flooring at its best
Tarkett has been innovating the creative use of vinyl since 1947, from its beginnings as flooring to where it is today—a highly creative design tool with strong environmental credentials made for the toughest of environments. iQ Surface has all the cutting-edge innovation of Tarkett configured towards the most creative of applications. At just 2mm thick, it carries the lifelong performance of Tarkett homogeneous vinyl and is able to withstand decades of constant use without diminishing in its appearance. Should it be needed, a quick dry-buff is all that's required to bring back its colour. Plus, it is easy to lay.
A beautiful and sustainable vinyl flooring
You have surely often wondered "is vinyl flooring sustainable?" With vinyl as its primary ingredient, Tarkett is able to replace a proportion of virgin material with recycled material from production, post-use homogeneous vinyl flooring and installation waste, collected as part of its self-initiated 'takeback' programme, ReStart. We recently developed an innovative technical solution in Sweden enabling our torn out homogeneous vinyl floors (made from 2011 and onwards) to be cleaned from glue and concrete residues, and turned into vinyl of the same quality as vinyl made from virgin raw materials. This means that iQ Surface can be installed, used for decades and then turned straight back into a new homogeneous vinyl floor.