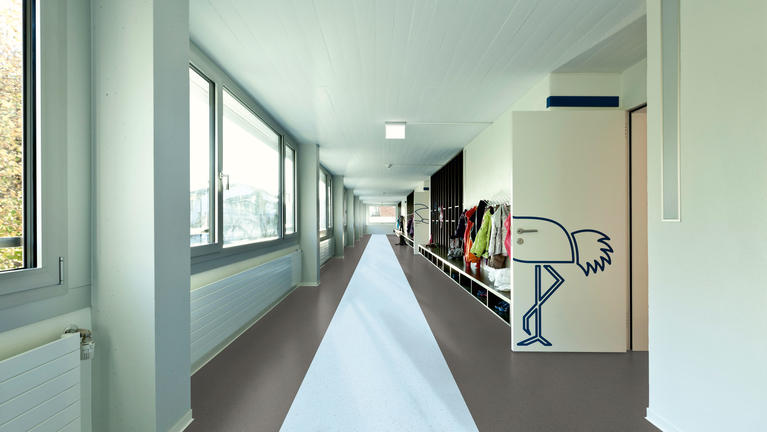 New Eclipse and Primo Premium Coloured Vinyl Flooring Collections
The new homogeneous vinyl Premium Collection comes with a whole new selection of colours and combination possibilities, while meeting excellent performance characteristics. A very functional vinyl flooring solution amongst non-directional pattern floors, with a large selection of combination possibilities in different formats, its high resistance to chemicals, stains and heavy traffic makes it particularly adapted to commercial spaces such as schools, healthcare facilities and other types of public buildings.
Combine different flooring colours and formats
With the new Eclipse and Primo Premium coloured vinyl flooring collections, you can choose from +100 colours (50% of them are new) and 4 different patterns available in rolls and tiles, which makes them very easy to combine. These combination options enable you to create customised interiors that convey exactly the atmosphere you are looking for, depending on the building and the user needs. Use our multi-coloured or uni welding rods for a seamless combination of your different colours and formats.
Strong performance characteristics
The new Eclipse and Primo Premium collections come with good performance characteristics including 17dB sound reduction with Eclipse acoustic for calm and pleasant interiors for users, slip resistance with non-slip vinyl flooring Primo Safe T, Static Dissipative properties with Primo SD and traffic resistance thanks to the PUR surface treatment that reinforces durability.
Easy maintenance flooring for better performance
The Premium collections come with the PUR surface treatment, which also makes the flooring much easier to clean and maintain without any additional surface treatment. This contributes to user health thanks to the little need for cleaning products as well as a simple cleaning protocol for maintenance staff.