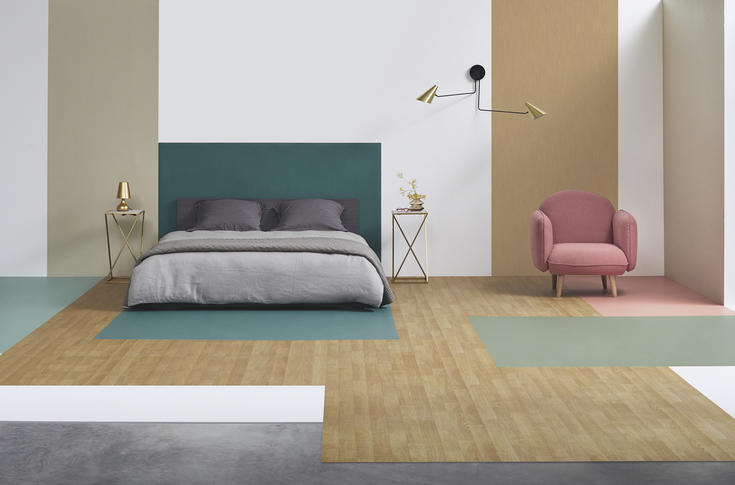 Performance with Endless Creativity
Tarkett's Heterogeneous vinyl collection of floor and wall solutions are renowned for offering the largest range of colours and designs on the market. With endless combinations from our latest Excellence and ProtectWALL ranges you can create attractive and inspiring spaces. The two ranges seamlessly combine to create bespoke ambiences from floor to wall in all segments including education, healthcare, aged care and hospitality.
Total design freedom
Tarkett's latest Heterogeneous collections allow you to multiply your creative possibilities when designing spaces that generate energy and wellbeing, while ensuring resistance and durability. Providing a multitude of choices that meet current design trends, our Excellence collection features a high matte occupant comfort and a more realistic look.
Engineered for durable resistance
Our Excellence flooring collection delivers durable resistance to indentation and tearing and is designed to withstand daily are designed to retain their freshly installed appearance for longer. The new Excellence range tested 29% improved rollability on rolling capacity where less force is required to push trolleys and medical beds.
Freshly installed appearance for longer
Requiring minimal maintenance our floors are proven to resist stains in numerous environments. Floors can be cleaned using a little water and neutral detergents, making it easier without the need for harsh chemicals. Our products are also proven to lower the overall life cycle costs, significantly reducing the cost of maintenance and cleaning.
Distinct spaces from floors to walls
In hospitals, aged care, schools, shops and storage areas, ProtectWALL is a heavy duty covering for walls and doors standards to ensure the safety of building occupants. ProtectWALL is designed to deliver ten years of protection from scratches, impacts and staining agents. Cleaning and maintenance are effortless and economical as ProtectWALL ProtectWALL also delivers a rapid return on investment when compared to stiff plates and paint, with up to 50% savings, that continues to grow over a ten-year period and beyond.