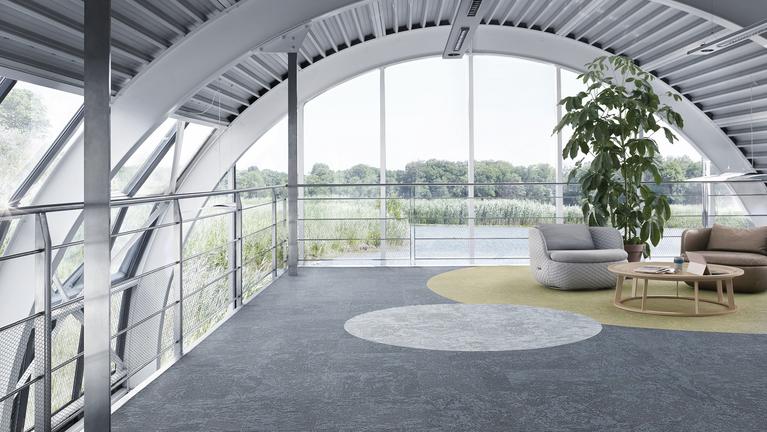 Indoor Air Quality
Australians are spending more time at work or indoors. As work hours continue to mount, it is clear that work conditions are a critical factor in the overall health and wellbeing of workers. Employee productivity and retention have also been linked to good employee health and wellbeing. It is critical for designers and specifiers to incorporate solutions that contribute to the wellbeing of end users wherever possible. In this whitepaper, we focus on flooring solutions, and take a look at how careful specification can boost indoor air quality in the workplace.
Improving Workplace Health & Wellbeing through effective design
Millennials are driving the contemporary workforce, and are reported to be more concerned with health and wellbeing than any preceding generations. This massive demographic shift is shaping workplace culture and office design, particularly with regard to health and wellbeing. 
In this whitepaper, we focus specifically on how flooring can shape healthful experiences within the workplace, and take a closer look at how carpet can improve wellbeing and indoor environmental quality.
Rethinking Workplace
Tarkett is committed to helping our customers create human-centred spaces where people thrive, that's why recently we surveyed 2,500 office workers in five European countries to establish their version of 'The Great Indoors'. 
In this research, we look into identifying what matters most to end-users, and what this means for the future of work and the ensuing commercial design opportunities.
Aged Care Design
We are seeing a demographic shift in our population with life expectancy increasing. Longer lives aren't always healthier of course. Ageing brings its own challenges as faculties decline, and conditions such as dementia cause further complications.
In this whitepaper we will look at the problems posed by ageing, both with and without dementia.  We will also look at some of the challenges faced in the aged-care segment including the needs of the caregivers, support staff and resident families.
Designing Healing Environments
21st century healthcare facilities must provide a high quality of patient care while reducing operating costs, lowering their impact on the environment and striving to humanise healthcare in a highly medicalised environment.
In this whitepaper we discuss what to consider when designing hospital environments, from designing sustainable buildings, indoor air quality and acoustics to selecting the ideal colours and products to suit specific functions/rooms. We explore how to ensure patient comfort, encourage mobility and minimise the spread of healthcare associated infections.
Schools of the Future
Regular exposure to allergens can lead to the development of asthma, a major cause of school absenteeism.
In this whitepaper we look at the important design aspects required for planning education facilities for the future. We go through how to create engaging, healthy spaces that enable elevated learning and teaching outcomes.
A Guide to Slip Resistance
When specifying pedestrian surfaces for slip resistance, the installation context should be accessed to determine what design considerations apply.
In this whitepaper we provide a concise guide to safety flooring, sustainable slip resistance and the design considerations relevant to flooring specification. This includes discussion on the slip resistance recommendations, testing methods and classifications set out in the National Construction Code (NCC), Australian Standards and other related guidelines.
Acoustic Flooring for Noise Control
Whether it be at work, in school or at home, Australians spend 90% of their time indoors, which highlights the importance of creating comfortable and productive indoor environments.
In this whitepaper, we take a closer look at the impact of internal acoustics on occupant health, wellbeing and comfort. We also examine specifying flooring for acoustic performance and the various considerations integral to the design process.
Worklife and the Impact of Covid
More than ever, it is clear that COVID-19 has fundamentally transformed the role of the workplace. In the past, workplaces were seen as places of constraint – defined physical spaces designed for productivity and efficiency that separated work from everyday life. With the global pandemic forcing the hand of companies worldwide, increased adoption and investments in technology have enabled employees to work whenever and wherever they want.
Infection Control
The COVID-19 pandemic has brought infection prevention and control to the front of mind of design professionals. Healthcare settings have been a focus due to the increased risk of immunocompromised patients in hospitals, and the potential exposure of healthcare workers putting a strain on hospital resources. In this whitepaper, we examine the critical role of flooring in creating safe hospital environments and the design considerations when specifying flooring solutions for such applications.