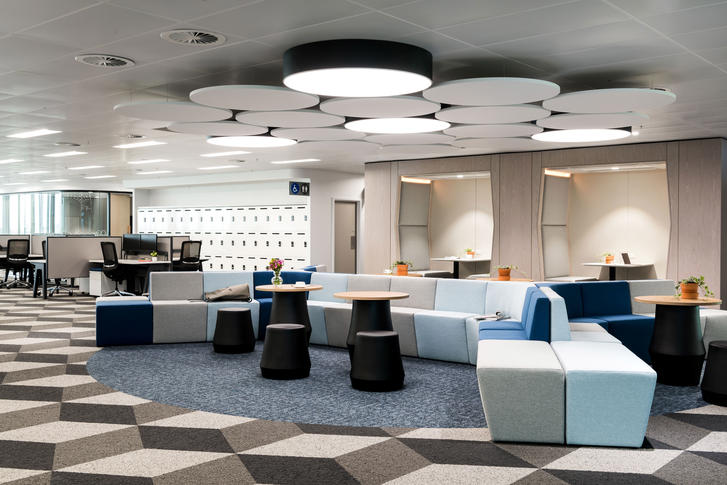 Royal Adelaide Hospital
The new Royal Adelaide Hospital – Australia's first large-scale hospital to achieve a 4 Star Green Star rating and also the country's largest Green Star project - has used a host of Tarkett vinyl sheet flooring and Desso carpet tile products to cover the building's expansive footprint.
 
Amaroo Aged Care Village
Seeking a calming yet practical flooring solution for an award-nominated aged care facility, Tarkett worked closely with the architects and interior designers of Amaroo Village to develop a contemporary 74-bed specialist aged care facility in the city of Perth.
 
University of Technology Sydney
A striking treehouse design created for the Dr Chau Chak Wing Building at University of Technology Sydney. UTS's first 5 Star Green Star rating building which features Tarkett's innovative Cradle-to-Cradle silver level certified DESSO AirMaster.
Blacktown Westpoint Amenities
Tarkett's hard-wearing iQ Granit flooring has played a prominent role in the colourful, nature-inspired design for the award winning bespoke amenities at Blacktown Westpoint shopping centre. Voted 'Best Bathroom 2019' by Total Facilities.
Prahran High School
A clever colour scheme employing Tarkett vinyl and Desso carpet tiles has helped bring a sense of vibrancy and the essence of the natural world into an Award-winning high-rise city school. Prahran High School is a vertical building, which at five storeys high, is amongst the first and tallest vertical high schools in Victoria.
South Melbourne Park Public School
A vibrant colour scheme employing Desso carpet tiles and Tarkett vinyl has helped bring a sense of playfulness to the Award-winning Victorian school. The school has repurposed two heritage buildings – the Albert Park Signal Depot and Drill Hall – and also built a new state-of-the-art learning block.
Brighton Secondary School
A unique air-cleaning carpet tile has become a major contributor to the health and wellbeing of students and staff at Brighton Secondary School – particularly those suffering from asthma and allergies. Located in a coastal suburb of Adelaide, Brighton Secondary School made a new addition to its buildings in 2016 and sought to specify a flooring product that improved indoor air-quality.
Joan Kirner Women's and Children's Hospital
Over 35,000 square metres of Tarkett homogeneous vinyl flooring has greatly contributed to the rigid hygiene standards and bold, colourful interior of the new Joan Kirner Women's and Children's Hospital. Recently built in Melbourne, the floor and walls of JKWCH has been effectively designed and employed to reduce stress and anxiety amongst all occupants, and result in an easy to clean and maintain surface.
Melbourne Uni Vet Hospital
A university in Melbourne's tertiary veterinary hospital and teaching buildings have been recently redeveloped to include 4000square metres of Tarkett's PVC-free iQ One vinyl flooring that contributed to the buildings being 6 Star Green Star-certified by the Green Building Council of Australia. The $63 million campus redevelopment includes a modern simulation centre to reflect how medicine is taught, learned and practiced - facilitating the development of skills essential for modern veterinary practice.
Telethon Kids Institute
Some lateral thinking by Tarkett Australia has entirely eliminated wastage of its DESSO carpet tiles during the fit-out of a Western Australian children's medical research facility - saving 30 percent on material costs and 50 percent on labour whilst delivering a unique, contemporary design for the facility.
 
Wanneroo Sports Centre
Wanneroo Secondary College, located in Perth Western Australia's northern suburbs, has harnessed the multifaceted benefits of Tarkett vinyl flooring for its new sports centre. Tarkett Omnisports Active 7.1 is a premium multi-purpose sports vinyl with exceptional shock-absorbency and cushioning, yet remains resistant to indentation – making it also suitable for non-sporting uses such as school assemblies, exams and performances. 
Aware Super
Tarkett's latest addition to its premium iQ line range of homogeneous flooring has been used for the first time ever in Australia in the refurbishment of the Aware Super (formerly First State Super) head office building in Sydney's CBD. Tarkett iQ Surface brings a new architectural dynamic to vinyl flooring with its terrazzo tile-like patterns and colours, opening up worlds of new possibilities for architects and designers seeking distinctive, high-end finishes with practical functionality at a vastly lower price-point than natural stone.
mecwacare
When tasked with refurbishing two buildings and constructing another, mecwacare was seeking hard-wearing carpet flooring that provided an aesthetic signature relevant to each individual location. Tandus Centiva is a brand of Tarkett Australia and, as Tarkett specifications manager Louisa Keleher explained, our Flexible Standards range opens up a world of new possibilities for customers, given its myriad of patterns to choose from and an unheralded amount of matching colour combinations.
 
Killarney Vale Preschool
A preschool on New South Wales' Central Coast has recently had several forms of Tarkett flooring installed to meet its goal of improving the health and wellbeing of its children and staff. Killarney Vale Preschool director, Karen Currie, said that when she first came to the preschool five years ago, she was surprised at the amount of carpet used throughout the centre, which she suspected was exacerbating young children's asthma and allergies.
West Lakes Shore School
The latest project in Australia to receive the showmanship of Floorcraft is West Lakes Shore School in the western seaside suburb of Adelaide, South Australia, whom installed a sensory walk - in the way of an artistic mural hallway. Architect Hodgkison's senior interior designer, Tina Murray, said the school briefed her for the sensory walkway, seeking a space to stimulate the young students when learning, walking or playing on it.
Bray Park State School
A public school has become the first in Queensland to receive Tarkett Australia's recently released DESSO Human Fascination
collection of carpet tiles, a range inspired by natural terrain, creating a 3D-like effect through its surface. Bray Park State High School in the Moreton Bay Region has installed around 600 square metres of Desso Granite, one of DESSO's Human Fascination range of carpet tiles for its new dual-winged Innovation Centre building.