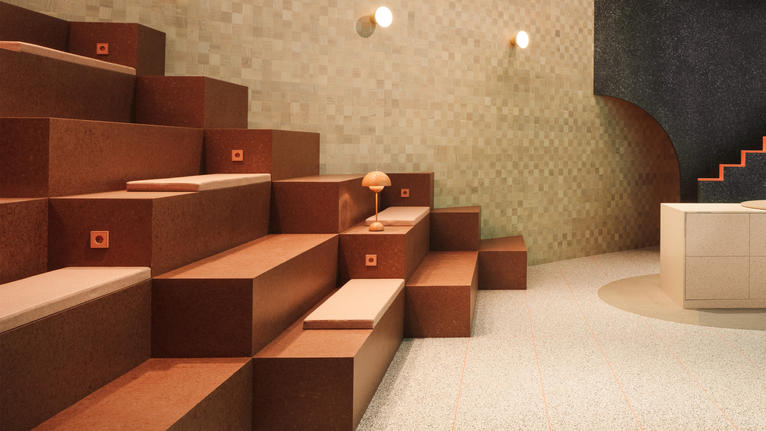 iQ vinyl floors – "Intelligent Quality" that ticks all the boxes
iQ stands for "Intelligent Quality" and is Tarkett's well-known homogeneous vinyl flooring for public spaces. The iQ range has solutions for all sorts of public environments and can be combined with special flooring in acoustic, wet room and non slip vinyl floorings and floors with static dissipative properties. It is of the highest quality and has many functional benefits such as durability, stain resistance and high flexibility that makes the floor easy to install - without sacrificing design. Thanks to their extreme versatility, iQ floors can accommodate a wide variety of applications and can be installed on floors, walls - and even furniture.
Easy and cost-effective vinyl floor cleaning
One of the things that make Tarkett's iQ flooring unique is the ability to restore the surface of the floor and appearance by dry polishing. Dry polishing on a regular basis keeps the floor surface smooth and sealed so that dirt does not penetrate the floor. Dry polishing not only removes scratches, it also causes iQ floors to be reset to their original state throughout its lifetime. The requirement is that the floor should be dry polished and never use wax or polish, or any other chemicals that create a surface on the floor. Watch the video for more details on the maintenance of iQ floors.
 
A unique protection for even more durability
iQ floors have a PUR surface layer that sets a new standard for durability and stain resistance. It provides the market's best protection against scratches and stains - even from chemicals used in hospitals and laboratory environments.
The market's lowest Life Cycle Cost
iQ floor's superior performance allows you to save 30% in maintenance costs with a 3-year payback period after which your investment is profitable. Since cleaning should be done with plain water and mild detergents, wax and polish are not needed, which add ups to the savings you can anticipate. Tarkett has developed a Life Cycle Cost Application (LCC) to calculate and compare cleaning and maintenance costs for a variety of flooring materials. Contact your Tarkett sales representative if you wish know more.
A sustainable flooring option
At Tarkett, we strive to make high quality, sustainable flooring to help create healthier spaces. Ronneby production facility in Sweden is where iQ is made. Sustainability has always been a natural way of working there. Perhaps it's the centuries-old Swedish sensibility towards natural resources and preservation which play a part, or it could simply be because it makes sense.
Homogeneous vinyl floors in a new light
With a design palette that contains 11 patterns and 257 different colours - from timeless classics to those very latest trends - iQ is the perfect choice for a variety of uses. But here is yet another way iQ homogeneous vinyl flooring will surprise you: iQ floors open up endless possibilities for a designer or interior architect to make a whole new interpretation and use of this material, as shown at 2018 Stockholm Furniture Fair Installation - The Lookout, in collaboration with Note Design Studio. The Lookout presented a whole new interpretation of iQ floors and, especially, where and how they could be installed. This reinterpretation revealed the great creative potential of the iQ collections. The beauty of Tarkett Homogeneous Vinyl is that you really can have performance and beauty.
On how to lay vinyl flooring - easily
Tarkett's iQ floors are known to be very flexible and easy to lay. iQ is wet room approved (VT floor) and it is easy to install around pipes and wipe down into the wells to ensure waterproof installation. To match iQ floors there are 4mm multicoloured and single coloured welding rods in a large amount of coordinated colours. The welding rods are light weld, high joint strength and easy to keep clean.
But welding and joining vinyl flooring can go well beyond mere functionality. We will share more creative inspiration in the coming months.